AcceleDent Fast Braces
AcceleDent Fast Braces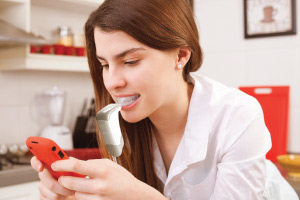 Faster treatment is important to our patients. Traditionally, the fastest treatment time is determined by the Orthodontist with the best treatment plan. Now there is a way to speed up the biology of tooth movement to get you the final result faster than ever.
Acceledent SoftPulse Technology
Micropulses gently accelerate the rate of movement of your teeth. Tiny vibrations speed up bone remodeling around your teeth which allows faster tooth movement. That means that your teeth will move up to 50% faster than with traditional braces.
Faster Braces
"I was able to get braces off almost a year before they were supposed to because of AcceleDent," reports Dylan L., an AcceleDent patient.
Acceledent reduces the treatment time with braces by accelerating the speed of tooth movement. Now you can get the result you want with traditional braces and clear aligners up to 50% faster.
More Comfortable Treatment
The #1 most common question our braces and clear aligners patients have is, "Will it hurt?"
AcceleDent's vibrations are able to make orthodontic treatment more comfortable. Tiny vibrations help teeth feel more comfortable as they move into the right positions.
Want the Most Advanced Orthodontic Technology?
Call 732-274-2211 to schedule a Free Braces Consultation to learn more about the latest Orthodontic technology that can help you get the final result you want faster than ever.