Book a video chat
Book a video chat
Video chat with Dr. Viechnicki during COVID-19 temporary closure
Frequently Asked Questions
Q: Why can't I keep my regular visit?
A: Our office is limiting physical visits to conserve personal protective equipment for hospitals treating COVID-19 patients across the country.
Q: What 6 photos should I send?
A: Capture 6 photos of the smile and teeth biting together.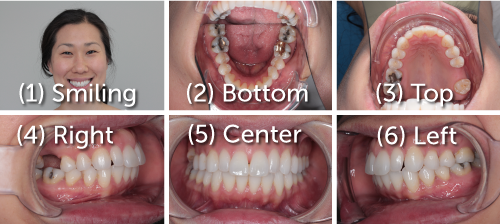 Q: How should I take them?
A: Use spoons to move the lips and cheeks to get a full view of the teeth.
Q: Where should I send the photos?
A: After selecting a day and time, upload each photo individually using the form that appears.
Q: How long will the video chat take?
A: Please allow 10 minutes.
Q: What video chat software do I need?
A: Google Meet.

Q: Where can I find the link to join the meeting on time?
A: After your photos are reviewed, Dr. Viechnicki will email you a link to "join the meeting".

Q: What if treatment is off track?
A: If treatment is off track, an office visit may be needed. The New Jersey State Board of Dentistry permits visits for orthodontic emergencies (bleeding and infection) and procedures that cannot be "delayed for 30 days without, in the clinical judgment of the dentist, running an undue risk of harm to the patient".
Q: What if treatment falls behind? A: Additional treatment beyond the estimated treatment time may be needed.
Q: When will the office return to normal hours?
A: As of 3/17 we plan to reopen 4/1 based on the guidance of the New Jersey Dental Association.
A: As of 3/21 we plan to reopen 4/20 based on guidance from the New Jersey State Board of Dentistry