Crossbite Treatments
Crossbite Treatments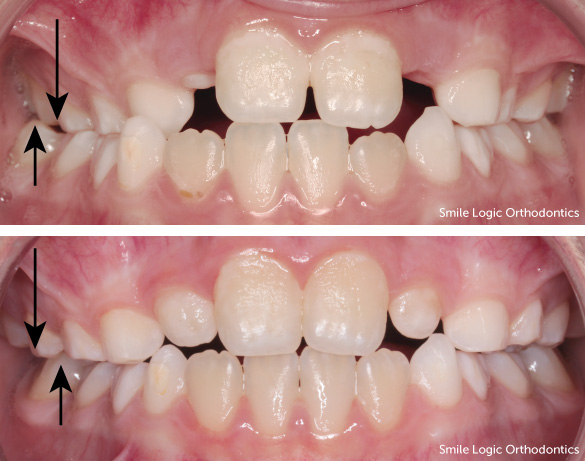 Crossbite corrected with palatal expansion in 6 months. Actual patient of Dr. Viechnicki.
A Crossbite is when the back teeth bite inside out.
Instead of the top teeth fitting over the bottom like it should (like a lid on a shoebox), the back teeth crisscross from their natural positions.
Crossbites are associated with lower jaw asymmetry and are a risk factor for future TMJ problems.
Crossbites are caused by:
Small upper jaw
Large lower jaw
Top teeth tilted inward
Bottom teeth tilted outward
Treatment options includeincreasing the width of the top jaw and tipping the teeth outward.
Palatal Expander
Advantages:
Increases width of top jaw
Disadvantages:
Additional appliance
Activated at home
Requires jaw surgery in ages 13+
W-Arch or Quad Helix
Advantages:
Increases width of top teeth
Activated in office
Disadvantages:
Additional appliance
Only tips teeth
Does not correct underlying jaws
Rubber Bands
Advantages:
Disadvantages:
High cooperation needed
Only tips teeth
Does not correct underlying jaws