Deep Bite Treatments
Deep Bite Treatments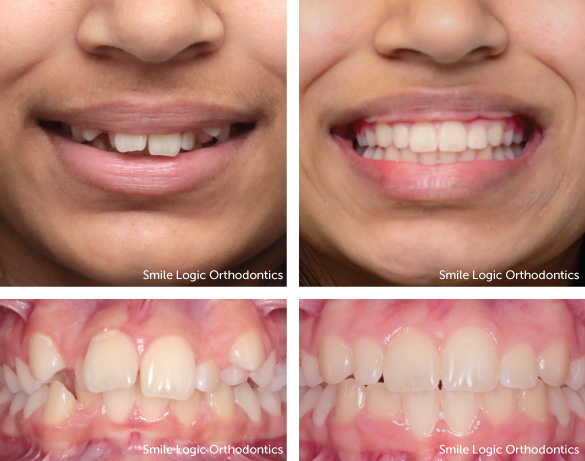 Deep bite corrected with full braces in 22 months. Actual patient of Dr. Viechnicki.
A Deep Bite occurs when the front teeth overlap too much.
A Deep Bite is considered "impinging" when the front teeth bite against the gums instead of biting against the teeth as they should.
That can cause problems with excessive front tooth wear and, in the case of an impinging Deep Bite, gum recession. It occurs in 15 to 20% of the population and 20% of 8-year-old children with a deep bite will develop an impinging deep bite.
Deep Bites are caused by:
Excessive eruption of the top front teeth
Excessive eruption of the bottom front teeth
Insufficient eruption of the back teeth
Insufficient vertical growth of the jaws
Treatment options include jaw surgery, increasing eruption of the back teeth, and intruding the upper or lower front teeth.
1. Jaw Surgery
Advantages:
Highest level of facial and self-image improvement
Best jaw alignment possible
Disadvantages:
2. Removable Bite Plate
Advantages:
Restricts eruption of bottom front teeth
Increases eruption of back teeth
Can be removed to eat and brush
Disadvantages:
High cooperation required
Longer treatment because part time (6-9 months)
3. Fixed Bite Plate
Advantages:
Same as removable bite plate except not removable
Full time wear so shorter treatment (4-6 months)
Disadvantages:
Difficulty chewing
Tissue irritation
4. Rubber Bands
Advantages:
Increases eruption of back teeth
Disadvantages:
High cooperation required
5. Bite Opening Wire
Advantages:
Intrudes front teeth
Increases eruption of back teeth
No additional appliance
Disadvantages:
Does not affect jaw position
Longer treatment than with bite plate (12-18 months)