Open Bite Treatments
Open Bite Treatments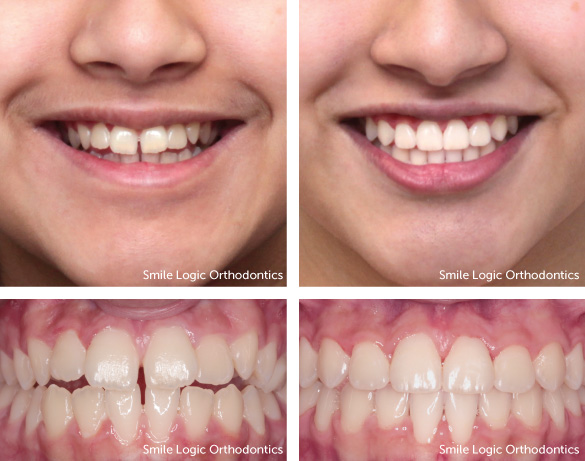 Open bite corrected with palatal expansion, full braces, and rubber bands in 22 months. Actual patient of Dr. Viechnicki.
An Open Bite occurs when there is no vertical overlap of the front teeth.
Open Bites often causes problems with speaking and biting into foods. It affects 61% of children between 2 to 3 years of age and 9% of 8 year olds.
An Open Bite does not improve spontaneously after the age of 8 for factors including heredity, thumb sucking, tongue position, and airway issues. Open Bites are caused by:
Insufficient eruption of front teeth
Excessive eruption of the back teeth
Excessive vertical jaw growth
Degeneration of the TMJ
Treatment options range from jaw surgery, developmental guidance, intrusion of back teeth, and extrusion of front teeth.
1. Jaw Surgery
Advantages:
Highest level of profile and self-image improvement
Best jaw alignment possible
Disadvantages:
Requires jaw surgery
Open bite may return (82% of treatments are stable)
2. Thumb Crib or Tongue Crib
Advantages:
Stops thumb habit or tongue thrust
Allows natural eruption of teeth (87% successful closure)
Disadvantages:
Additional appliance
High cooperation needed
Tissue irritation especially with young patients
Depends upon favorable jaw growth
3. Miniscrew Intrusion
Advantages:
Intrudes back teeth
Allows jaws to rotate closed
Disadvantages:
Miniscrew placed in bone
Additional appliance
Tissue irritation
Open bite may return (82% of treatments are stable)
4. Rubber Bands
Advantages:
Moves front teeth together
Disadvantages:
Does not affect jaw position
High cooperation required
Open bite may return (75% of treatments are stable)
5. Removal of Teeth
Advantages:
Lower cooperation needed compared to rubber bands
Disadvantages:
Requires removal of teeth
Does not affect jaw position
Open bite may return (75% of treatments are stable)