Overbite Treatments
Overbite Treatments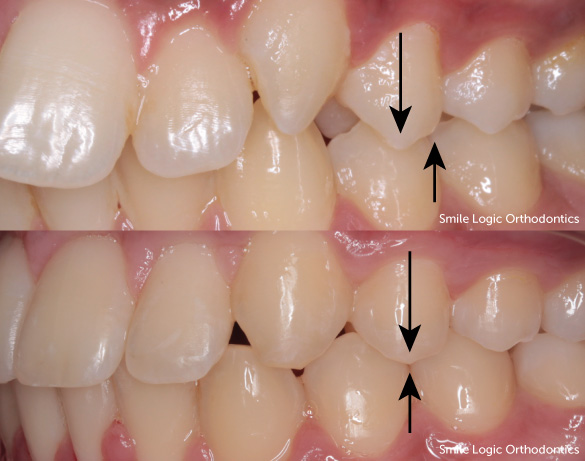 Overbite corrected with full braces and rubber bands in 30 months. Actual patient of Dr. Viechnicki.
An Overbite, also called excess Overjet, occurs when the upper teeth bite too far ahead of the lower teeth.
When the bite is off, the pointed back teeth grind and wear excessively (note arrows in image above).
It occurs in 15% of the population and is caused by the following:
Large upper jaw (15%)
Small lower jaw (85%)
Protrusion of upper teeth
Retrusion of lower teeth
Treatment options range from restricting upper jaw forward growth, increasing lower jaw forward growth, and moving teeth to camouflage the skeletal problem.
1. Jaw Surgery
Advantages:
Highest level of profile and self-image improvement
Best jaw alignment possible
Disadvantages:
2. Headgear
Advantages:
Restricts upper jaw forward growth
Disadvantages:
Removable appliance (58% success rate with cooperation)
Longer treatment (1-3 years) because part time wear
Depends upon continued lower jaw growth
3. Herbst
Advantages:
Restricts upper jaw forward growth
Increases lower jaw forward growth
Full time wear so shorter treatment time (12-15 months)
Immediate profile and self-image improvement
Disadvantages:
Additional appliance
Tissue irritation, especially in small mouths
Depends upon continued lower jaw growth
4. Forsus
Advantages:
Restricts upper jaw forward growth
Increases lower jaw forward growth
Full time wear so shorter treatment time (6-12 months)
Less cooperation needed than rubber bands
Disadvantages:
Same as Herbst
Used for less time than Herbst so smaller correction (4mm)
Example:
5. Rubber Bands
Advantages:
Moves teeth to improve excessive overbite
Disadvantages:
Does not affect jaw position, so smaller correction (3 mm)
High cooperation required
6. Removal of Upper Teeth
Advantages:
Better result compared to not removing teeth
Lower cooperation needed compared to rubber bands
Does not depend on lower jaw growth
Disadvantages:
Does not affect jaw position
Requires removal of teeth