Underbite Treatments
Underbite Treatments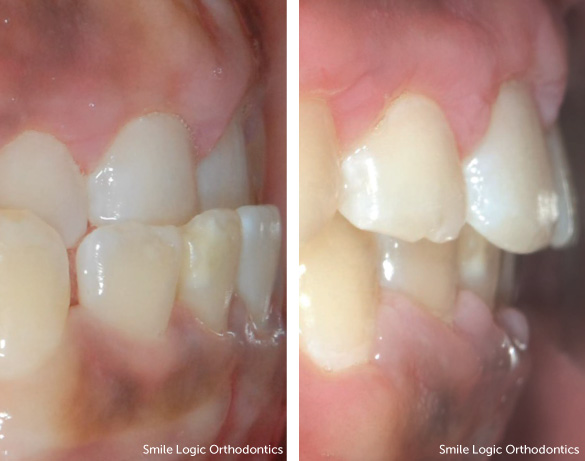 Underbite corrected with full braces, and rubber bands in 20 months. Actual patient of Dr. Viechnicki.
An Underbite occurs when the upper teeth bite behind of the lower teeth, instead of in front, like they should.
It occurs in 5% of children and is caused by the following:
Small upper jaw (40%)
Large lower jaw (40%)
Retrusion of upper teeth
Protrusion of lower teeth
Treatment options range from correcting the jaw positions surgically, increasing upper jaw forward growth, restricting lower jaw forward growth, and moving teeth to camouflage the skeletal problem.
1. Jaw Surgery
Advantages:
Highest level of profile and self-image improvement
Best jaw alignment possible
Disadvantages:
2. Face Mask Headgear
Advantages:
Increases upper jaw forward growth
Disadvantages:
High cooperation required
Longer treatment because part time wear (2-4 years)
Depends upon favorable jaw growth (75% success)
3. Retainer with Springs
Advantages:
Moves top teeth forward out of crossbite
Disadvantages:
High cooperation needed
Best for only 1 or 2 teeth in crossbite
4. Chin Cup
Advantages:
Restricts lower jaw forward growth
Disadvantages:
No long term effect on lower jaw growth
Lower jaw growth continues after treatment
5. Rubber Bands
Advantages:
Moves teeth to improve underbite
Disadvantages:
Does not affect jaw position
High cooperation required
6. Removal of Lower Teeth
Advantages:
Lower cooperation needed compared to rubber bands
Disadvantages:
Does not affect jaw position
Requires removal of teeth